by Noelle August

I am so beyond excited to help share the cover for Rebound (Boomerang #2) by Noelle August! Earlier this year, I read Boomerang and found it to be a breath of fresh air in the New Adult genre. Tons of fun and full of heart. Rebound is the second installment which switches focus to a couple interesting characters we've already met but just scratched the surface with. I can't wait to see how this new relationship blossoms!
So without further ado…
Rebound (Boomerang #2) by Noelle August
February 10th 2015
William Morrow Paperbacks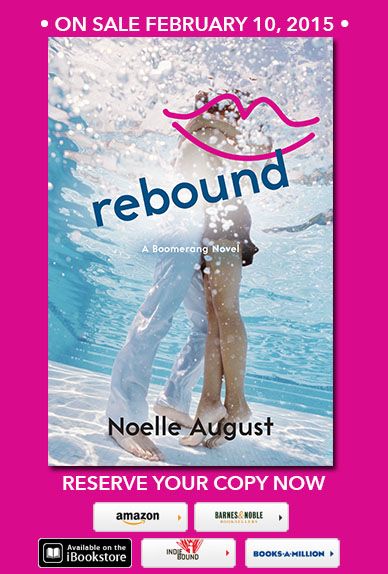 Synopsis:

At Boomerang, one night can change everything…
Adam Blackwood has it all. At twenty-two, he's fabulously wealthy, Ryan Gosling-hot and at the top of his game in the business world. His life is perfect, until a scandal from his past resurfaces and threatens to knock the tech wunderkind down and throw his company, Boomerang, a hook-up site for millennials, into chaos.

Alison Quick, the twenty-one-year-old daughter of a business tycoon—and the very ex-girlfriend of Boomerang's former intern, Ethan—has a problem of her own. After nearly flunking out in her senior year of college, she has one chance to redeem herself to her father by proving that she deserves a place in his corporate empire. That means spearheading her father's plan to sink big money into Adam's company and launch it into the stratosphere—provided Adam has no skeletons in his closet.

When the two meet, their sizzling chemistry makes it tough to keep things strictly professional. But when Alison discovers Adam's secret, she knows she should bring it right to her father, who'll leverage it for his own gain and use it to ruin Adam. The only problem: she's falling for Adam—hard.

Will earning her father's approval come at the price of losing her first real love? Or can Adam and Alison leave behind past mistakes and conquer the world—together?

I adore this cover. Fun and light with the water embrace and bubbles. And of course the drawn lips to match the drawn heart from Boomerang's cover. I cannot wait to read this come February! What do you guys think?